Short history
Department of Overland Communication Ways, Foundation and Cadastral Survey
Ioan Curea 1A
Timișoara 300223 România
+40 (0) 256 403 961
+40 (0) 256 403 960
The Roads and Bridges Specialization was established within the Faculty of Civil Engineering in 1964. Following this, the Department of Railways, Roads and Bridges was created, which, in 1996, transformed into the Department of Geotechnical Engineering and Land Communication Ways. The new Department adopted the Cadastral Survey Specialization, established in 1991, and later called Land Measurements and Cadastre, which defines the domain of Geodetic Engineering.
Except for the disciplines of strict specialization (roads, highways, railways, topography, geodesy or cadastre), addressing exclusively students specialized in both disciplines coordinated by the Department, there are currently other technical disciplines within the Department (geological engineering, soil mechanics, foundations, descriptive geometry, assisted graphics and technical drawing) for students of all specializations from the faculty.
The didactic activity is divided into four discipline groups:
Soil Mechanics and Foundation;
Roads and Railways;
Geodesy and Cadastre;
Descriptive Geometry and Technical Drawing.
The teaching staff is composed by three professors, four associate professors, eleven lecturers and three assistant professors.
Areas of research
Geotechnical engineering: investigation of foundation soils in the laboratory and in situ; solutions for protecting and insulating constructions from vibrations transmitted through the foundation ground; stability in embankments and slopes; geotechnical and foundation works using technologies based on vibration.
Roads and railways: design and construction of high quality resistance structures for roads;  construction and maintenance of roads; welded railways; geometry of high speed rails.
Geodesy and Cadastre:
Geodynamics, Photogrammetry, Geographic Information System (GIS), Surveying Engineering; advanced methods within Geomatics, Spatial Data and 3D Modelling; Geo-Spatial modelling for Land Measurements; GIS for urban development and management; monitoring constructions and land movements.
The department hosts the Research Centre in Infrastructures for Constructions and Transportation - ICT, set up in 2001 within the Faculty of Civil Engineering.
The activity of the research centre in the field of civil engineering infrastructures is supported by the Laboratory for Soil Mechanics and Overland Communication Ways. The laboratory was authorized by the Government Inspectorate in Constructions as 1st degree laboratory (authorization no. 2872/2014), for the following profiles: Geotechnics and Foundation Soil, Materials for Concrete and Mortar, Concrete, Reinforced Concrete, Prestressed Concrete, Nondestructive Tests of the Operation Behavior of Constructions, Natural Aggregates for Railway and Road Works, Materials for Roads, Roads and Railway Infrastructure .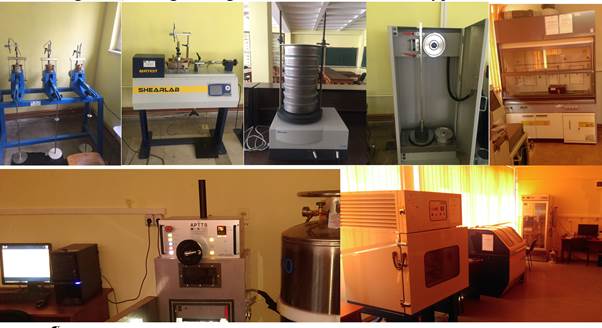 The activity of the ICT research centre in the field of geodetics is supported by the Land Measurement and Cadastre Laboratory. Authorized by the National Agency of Cadastre and Real Estate (authorization B no. 973/15.12.2009), the laboratory is equipped with a monitoring system for the determination of deformations and displacements of constructions and lands, terrestrial 3D scanning equipment and specific software for 3D point clouds analysis, imaging and management.The Computer Network dedicated for teaching and research is composed by50 workstations with specific Software Applications: Toposys, Mapsys, AUTOCAD, ERDAS Imagine, Geo Office and Intergraph, PTV Vision, SolidScan, GeoVerse.
| | | |
| --- | --- | --- |
| | | |
| | | |
Relevant projects
Contract no. 101/2014 – Integrated technology for preparing ecological composite asphalt mixtures with compounds obtained through industrial waste processing, in order to realize quality road pavements (ECOASFALT), PN-II-PT-PCCA-2013
Contract no. BC 56/2011 – Technical report for the area between the Ferdinand Boulevard and Traian Street – area administrated by Constanţa City Council – between the A1 – A8 buildings, Beneficiary: Constanţa City Council
Contract no. BC 94/2014 – Technical report for DN 18 Baia Mare – Sighetu Marmaţiei, Section B km 15+000 – 38+104 and Section E km 52+202 – 62+234 concerning the road pavement and the culverts. Beneficiary: Aktor Technical Societe Anonyme (Aktor S.A.)
Contract no. BC 65/2015 – Technical report: modernization of streets, creation of bicycle tracks in the Jimbolia City.
Beneficiary: U.A.T. Jimbolia City
 Contract no. BC 22/2016 – Field and laboratory investigation services concerning interventions to the soil in the safety strip (RWY strip) and the safety areas pertaining to the takeoff/landing runway (RESA)
Contract POSDRU ID 63140 – Online university cooperation network for providing higher competences in geodesy
Contract no.174 /30.12.2010 – Researches and experiments regarding the Francis turbines FVM of 57.5-128.5 performances enhancement from CHE Brădişor – III-rd Stage
Contract no. BC 140 – Deformation Monitoring using 3D Laser Scanning -  Ocnele Mari Salt Mine, Vâlcea County, spatial data interpreting and analysing
Development of Urban Green Space Monitoring Technique with Remote Sensing and its Application – 2016, PN III 2016.